Coronavirus awaits you in stores

Did you know that Grocery stores are not only filled with "yummy treasures" that reduces boredom and increases happiness during the pandemic but tiny invisible viruses living on its surfaces? The study published by The New England Medical Journal which is carried out by US researches declares that coronavirus can live for up to 72 hours on such surfaces as plastic, stainless steel, copper and cardboard. Following results of another research published in The International Journal of Environmental Research and Public Health "the less-porous ones like plastic and steel were the worst because they absorb droplets less easily, preserving the active virus". Keeping in mind that grocery stores serve thousands of customers per day who are browsing through shelves and picking up products, stores turn into a coronavirus tub sooner than noon arrives on the same day.



Although stores claim to "quarantine" products that are already touched and placed back, most customers do not admit and inform touching a product. Some might believe that they were not holding it for long enough. Some just do that unconsciously. Research published in The International Journal of Environmental Research and Public Health suggests that human droplets are just like an aerosol spray that can be easily spread across the room and settle on any surface for hours. The main problem is not with products itself but people touching the container packaging and then their mouth, nose or eyes which are the most common ways the virus spreads, claims US Centers for Disease Control and Prevention.



Conscious or speed shopping?

The threat is even more alarming if you are someone who consciously focuses only on nutrient-rich products. Why is that? Such focused shopping requires checking and analyzing nutritional information of every product that seems like a good fit. That means - more picking and touching. That means - more ways to leave coronavirus on surfaces.

Does this information suggest that we should stop focusing on the right choices while shopping? Should we set a speedometer before entering a store instead? Keeping in mind that almost 8% of ill patients in critical conditions caused by COVID-19 have been exceptionally obese, such a decision would be even more life-threatening.


Food scanning apps - solution or a threat?

What is the solution? UK's new coronavirus tactic, recently introduced by Prime Minister Boris Johnson, suggests the government focus all efforts into fighting obesity in the country. This includes nutritional labelling that ensures customers are making informed and conscious decisions before buying food products. In this case, current food scanning apps are a pretty handy companion browsing through stores.

The only problem with such food scanning apps is that most of them require scanning barcodes. In times of the pandemic, this is even worse than shopping blindfolded. Such scanning requires touching product after product until you find the one that fits your nutritional needs. This way the customer might unconsciously increase the risk of spreading or catching coronavirus even before feeling any benefit from a balanced diet. We don't want to fuel the pandemic by focusing on our stomach, right?


JollyGut introduces COVID-free shopping

Keeping this issue in mind, JollyGut team has developed an app that respects customers' health and safety during these uncertain times.

How it is different from any other food scanning app? Well, the advanced visual recognition technology scans a food product without requesting to pick it up. This way customer learns about any food product's impact on his health from a safe distance. This means no touching and picking that eventually turns into COVID-free shopping!

How does it work? All that is required is to point a phone camera at any food item and the app will instantly indicate the most relevant nutritional information of the product. This way customer is informed whether it contains his allergens, additives or if it is organic, vegetarian or vegan. More than that, the app compares this information and lets the customer learn:


Nutritional value of the chosen product by indicating simple traffic light colour codes – green is the best option, yellow is the "ok" one and red is an alarming one.
Recommendations for healthier alternatives of a chosen product keeping in mind price and taste preferences
Evaluation of the overall health of the shopping basket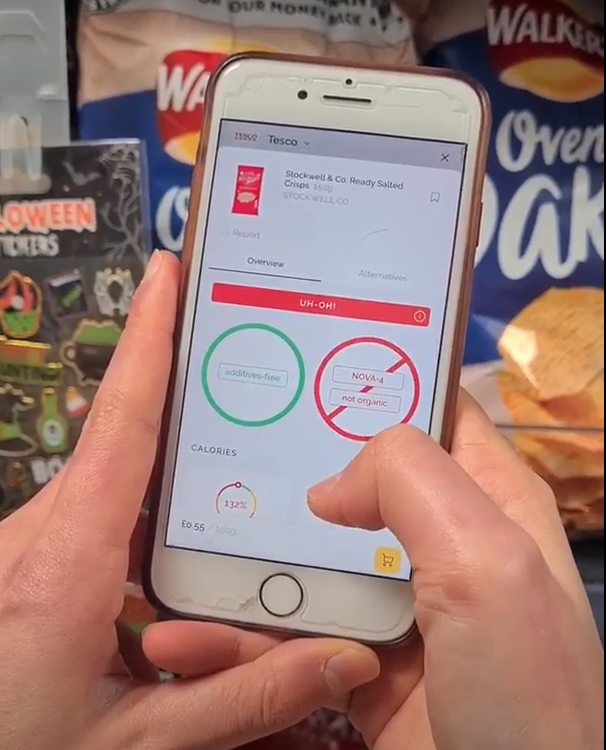 Conscious shopping online

Keeping in mind that the recent Waitrose survey declared that 77% of customers (out of 2000 respondents) now choose shopping online rather than going to stores, JollyGut has developed a browser extension.

The only thing that works better than the previously mentioned 'coronavirus anti-spread strategy' is planning grocery shopping ahead. While that sounds smart in theory, if you are someone who focuses on particular products that match your specific needs – it as a complex task to complete. Jollygut browser extension allows accessing the same functions of the app browsing through supermarkets' website (currently accessible only for Tesco, Sainsbury's, and Morison's). This means that you are informed about nutritional value, better alternatives and overall "healthiness" of the whole basket shopping online.

Uncertain times require certain actions. Especially if we talk about such a common activity like shopping. The coronavirus spread can be effectively reduced if customers would consciously stop touching surfaces in stores. In this case, JollyGut might be the best solution for safe and enjoyable shopping. Currently, it can be used purchasing products across such UK groceries as Tesco, Sainsbury's, and Morison's. Oscado and Waitrose will be added shortly.